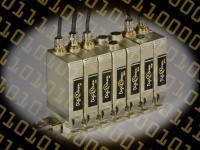 Digital Probe Technology for Dimensional Measurement and Quality Control

Marposs introduces Digi Crown™, an innovative system of Digital Probe Technology for Dimensional Measurement and Quality Control.
Digi Crown™ brings a new measurement standard to the metal cutting, metal forming, glass, ceramic and plastics industries in one comprehensive package.
This system allows for configuration of max. 12 networks, each with capacity of up to 31 probes, connected to a PC via RS232 serial interface or RS485 interface cards for PCI or ISA bus.
Each Digi Crown™ probe carries its own unique identity, is perfectly mapped to its working range and connects to a separate component, the digital interface box, where it is automatically recognized by the system.
In case of replacement the Digi Crown probe requires no "back to the factory" setting.
Digital interface boxes provide the Analogue to Digital conversion and bank together providing one single output into the gauge computer.

All Digi Crown™ components are designed and engineered to traditional Marposs high standards and guaranteed to work in harsh manufacturing environments. 
High system modularity
Digi Crown™ is a versatile and easily expandable system.
Add as many probes as you need to create large measuring networks.
Can work with regular Red Crown™ probes mixing Digi Crown™ probes exactly and only where you need them.
Combination with logic I/O's is also possible within the same network.
Cost effective
One Mean setting master can cover all working ranges.
One fixture with Digi Crown™ probes can accommodate all turning ops and the final grinding on a production part*.
Economically add one probe system at a time to increase gauge capability.
No unused inputs, no additional input boxes.
Easy to use
Probe replacement requires no software reconfiguration; disconnect and reconnect only the probe. The system will recognize your new probe automatically.
Practical applications are easy to configure using Quick SPC™ or Easy Acquisition™ software wizards.
User friendly system design assists with application engineering and network configuration software set up.
Reliability and environment protection
Digi Crown™ probes uses proven Marposs technology and is built to IP-65 protection to endure severe workshop environments. 
Measurement network uses high speed serial communication bus using RS485 protocols.
Flexibility
Digi Crown™ probing network can be connected to Marposs E9066 industrial computers or to other commercial computers, using standard industrial interfaces by using either the dedicated RS 485 interface card or the RS 232 conversion module, which allows direct connection via standard serial port.
The Digi Crown™ driver software library is also available to customers for integration into third party SPC software systems.
Low cost maintenance
Quick replacement, only the probe, ensures minimum downtime.
User only has to stock the probe.
Low cost repairs.
This equipment is used along with E9066T electronic unit.

* Dependent on component complexity
* Excludes the special soft touch probing system

 
Features
- Calibration Laboratory Accuracy Over the Entire Range of the Probes (1 to 20 mm), Allows Measurement of Parts with Different Dimensions or Wide Tolerances
- High Resolution Guarantees Performance Levels and Customer Satisfaction
- Carries the Excellence and Characteristics of Marposs Probe Technology
Specifications