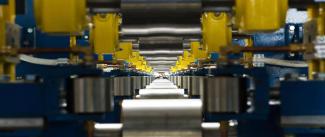 Linear Position Sensors For Factory Automation Applications
Low Cost LVIT Technology
Spring loaded linear position probes with standard industrial digital or analog outputs are commonly used in dimensional gaging and control systems to efficiently measure critical dimensional parameters on machined parts and sub-assemblies. The automotive, aerospace and medical industries require precise machining tolerances on piece parts. Using inductive linear position sensors for dimensional gaging insures quality parts as part of SPC and quality control programs.
The LRx and LRSx Series Economical and Rugged
These linear position sensors were designed by engineers having decades of experience with factory automation measurement and controls systems. These inductive linear position sensors combine quality, reliability and long life in demanding applications. The LRSx series is spring loaded making the task of installation a simple process due to it's compact design and standard M18 threaded body. Do you have a tight space? The LRx series with rod eyes an almost one-to-one stroke to length ratio which make them a great solution. These position sensors either in spring loaded form or rod eye style are an excellent choice for most industrial linear position feedback applications.
DGP Series Dimensional Gaging Probes
These LVDT based sensors are offered in ranges for +/-.5mm to +/-10mm in full bridge, half bridge, feather touch and pneumatic configurations, our dimensional gauging probes allow the user to take individual measurements or customize full data acquisition systems using a bus system and accompanying software.
Need help deciding which sensors is right for your application? Have questions about a particular product? Speak to an experienced application engineer at H. G. Schaevitz Alliance Sensors Group by calling us at 856-727-0250 or contact us by clicking here.