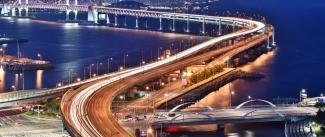 LVIT - Position Sensors for Civil Engineering Applications
ASG linear sensors are all designed for heavily industrialized and harsh environments. Bridge expansion, rail track monitoring for buckling, building/structural integrity, waste water treatment, and road level are all applications successfully satisfied with MR, ME and LV sensors. With ranges up to 1m, built-in electronics that can operate from -40 to 115C, shock/vibration resistance and optional mounting hardware such as rod-eye ends, ASG offers a complete solution for outdoor applications. Each sensor has the SenSet™ calibration feature allowing the sensor, after installation, to be calibrated to the exact cylinder's stroke.
Need help deciding which sensors is right for your application? Have questions about a particular product? Speak to an experienced application engineer at H. G. Schaevitz Alliance Sensors Group by calling us at 856-727-0250 or contact us by clicking here.