For Use In
Automotive and Aerospace Test Stands
Dimensional Gaging Fixtures
X-Y Stages or Tables
Metrology Labs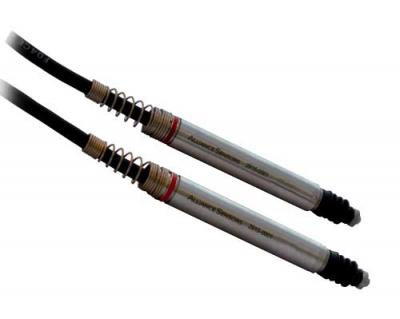 Spring-Loaded LVDT Gaging Probes
Specifically Designed for Dimensional Gaging and Metrology
The DGP Series Dimensional Gaging Probes by Alliance Sensors Group are AC-LVDT based, spring-loaded linear position sensors designed for high precision dimensional gaging applications.  Widely used in the automotive, aerospace, and medical industries for machined parts manufacture, Gage R&R, and CpK data.  The DGP series has the precision necessary to make measurements to uphold Six Sigma programs.
Available in three ranges, the DGP Series spring-loaded LVDT has an 8 mm diameter, IP-65 rated housing that is slightly shorter than most competitive units. A light spring force of less than 1.25 lbs./inch holds the DGP probe in contact with the part, but is light enough not to deform the product. Precision ground bearings and an anti-rotation pin allow the DGP to hold submicron repeatability and resolution. A rubber boot over the probe shaft keeps contaminants out of the linear bearing.
Alliance Sensors Group offers the SC-200 DIN-rail-mountable signal conditioner for use with the DGP series which provides the user with a very easy push-button calibration. The SC-200 excites a DGP with the proper AC voltage and frequency then demodulates and amplifies the DGP's AC output to produce the user's choice of several analog DC voltages or 4-20 mA current output signal.
Features
- Units Available from Stock in 3 Measuring Ranges: ±0.5 mm, ±1.0 mm, and ±2.5 mm
- 8 mm Diameter Plain (unthreaded) Body is Standard
- Optional 0.375 Inch Threaded Adapter Sleeves for Plain Body Models Available from Stock
- Better than 0.5 Micron Resolution and Repeatability
- Adjustable Probe Pre-Travel
- 2 m Cable with Right Angle Exit Adapter Included -- Meets EMC Standards - Directive 89/336/EEC
Specifications
| | |
| --- | --- |
| Excitation Voltage: | 3.5 Vrms |
| Excitation Frequency: | 7.5 kHz |
| Max Current: | 9 mA rms |
| Phase Shift: | <10 deg |
| Operating Temperature: | -10 to 65 C |