For Use In
Factory Automation
Robotic Motion Control
X/Y Table Position Feedback
Mil/Aero Test Stands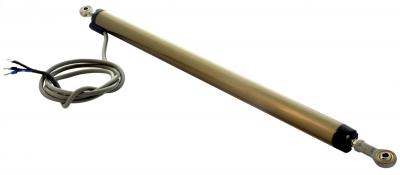 Linear Potentiometer for Factory Automation
The LP-22 series linear potentiometer is a cost effect solution for factory automation linear position sensing applications like robotic motion control, X-Y table position feedback, flow control valve position, suspension travel, press and die position, injection molding machines, and mil/aero test stand applications. This 3-wire resistive film sensor is available in stroke lengths from 1 to 12 inches (25 to 300 mm), with a maximum linearity error of 0.1% of full scale.
The sensor is provided with swivel rod eyes at each end for self-alignment and easy mounting. A 22 mm diameter anodized aluminum housing rated IP-64 protects the unit from airborne contaminants, and the sensor is rugged enough to withstand the typical shock and vibration environments of industrial shop floors.
For more information see the technical datasheet below.
Features
- Full Ranges From 1 to 12 inches (25 to 300 mm)
- Self-Aligning Swivel Rod Eyes on Both Ends
- 1 m Long, 3-Conductor Cable
- 22 mm OD Anodized Aluminum Housing
Specifications
| | |
| --- | --- |
| Operating Temperature: | -40 to 150 C |
| Temperature Coefficient: | <1.5 ppm/°C |
| Shock: | 50 g (IEC 68-2-29, single hit) |
| Vibration: | 20 g (IEC 68-2-6) |
| Environmental Protection: | IEC IP-64 |
| Input Current: | ≤12 mA |
| Resolution: | Infinite |
| Output Range: | 0 to 100% of input |
| Repeatability: | 0.01 mm (0.0004 inch) |
| Max Operating Speed: | 5 m/s |
Configuration Table
| | | | | | | | |
| --- | --- | --- | --- | --- | --- | --- | --- |
| Product | LP-22-025 | LP-22-050 | LP-22-100 | LP-22-150 | LP-22-200 | LP-22-250 | LP-22-300 |
| Range (mm) | 25 | 50 | 100 | 150 | 200 | 250 | 300 |
| Resistance ±10% | 1 k | 2 k | 4 k | 5 k | 5 k | 5 k | 5 k |
| Max input Voltage | 12 | 24 | 24 | 36 | 36 | 36 | 36 |
| Non-linearity %FS | ±0.10 | ±0.10 | ±0.08 | ±0.08 | ±0.06 | ±0.06 | ±0.06 |
| Body length A (mm) | 79 | 104 | 154 | 204 | 254 | 304 | 354 |
| Dimension B (mm) | 58 | 83 | 133 | 183 | 233 | 283 | 333 |
| Weight (grams) | 75 | 100 | 155 | 190 | 215 | 245 | 270 |
| Rod eye c-c (mm) | 139 | 164 | 214 | 264 | 314 | 364 | 414 |