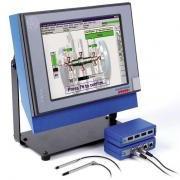 The E9066T™ Thin Panel Industrial Computer
SIMPLE ON MEASUREMENTS
The E9066T™ Thin Panel Industrial Computer is the ideal companion for the Marposs Digi Crown™,  data acquisition system. When bundled with its' Quick SPC™ for Windows® Measurement & SPC software, and innovative user interface, your applications will be just a few keystrokes or mouse clicks away.

SMALL ON SPACE
With a mere 50mm in depth, the E9066T has been designed to satisfy all space-constricted applications, without compromising features and functionalities of a complete industrial PC at a truly competitive price.
Thanks to its reduced footprint and small weight, it is suitable for bench-top, panel mount, wall-mount and swing-arm solutions alike.

BIG ON FEATURES
Its' standard configuration includes a 15" LCD TFT display, two built-in Ethernet ports, a built-in Fieldbus socket, six USB ports and all standard computer interface ports.
Options are available for a 17" LCD TFT display, touch screen, expansion slots, various types of mass storage devices and solid state memory disks.

E9066T represents a truly innovative family of small, modular and reliable industrial computers for Data Collection, Industrial Control and Production/Factory Automation.
Specifications