For Use In
Steel, Aluminum and Paper Mills
Industrial Fluid Power Systems
Steam and Hydro Power Plants
Factory Automation Systems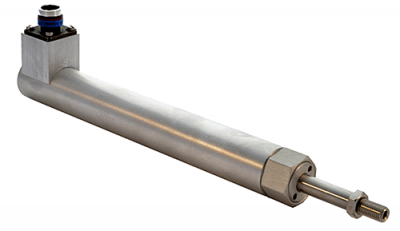 LVDT Linear Position Sensors
Designed Specifically for Power Generation and Harsh Industrial Environments
Alliance Sensors Group's LA-27-R series of AC-LVDT linear position sensors have been designed for use in steel, aluminum, and paper mills; fluid power systems; and steam or hydro power plants. These heavy duty sensors use a thick wall aluminum housing (stainless steel available) with an open bore and radial terminations that include a cable in a cord grip, a heavy duty industrial connector, or an optional high temperature connector, with which the LA-27-R is a natural choice as a heavy duty replacement for older through-bore LVDTs with a radial connector found in some steam power plants for valve position.

The core of the LA-27-R is enclosed in a 3/8 inch diameter stainless steel connecting rod assembly from which it can never break loose, and which has a male threaded end for connection to a user's workpiece or many optional end pieces available from ASG. Because it has an open bore, an LA-27-R has no shaft seal around the operating rod, but it still has an internal stop for the fully retracted core rod to facilitate mechanical setup.

The LA-27-R series LVDT are ideal for roller gap measurement, head box feedback, control valve shaft position, and hydraulic actuator position feedback. They have the ruggedness to withstand the harsh environments in steam power plants; paper, steel, and aluminum mills; industrial fluid power systems; and hydroelectric plants, and can survive industrial wash downs and equipment cleaning operations. Mated with an Alliance Sensors' model SC-200 DIN-rail-mounting LVDT signal conditioner, an LA-27-R LVDT based system becomes an ideal solution for almost any heavy industrial position measuring applications. For power plant applications, an ASG model S2A is the recommended DIN-rail-mounting LVDT signal conditioner to use with an LA-27-R series LVDT.
Technical information and the datasheet can be found below.
Features
- Stock ranges: 3, 6, 9, 12, 15, or 16 inches (75 mm to 400 mm) Full Scale
- Works in 3-wire, 4-wire, 5-wire, 6-wire, and ratiometric (A-B/A+B) systems
- 5/16-24 or M8 x 1.25 male threaded shaft end
- Core totally enclosed in 3/8 inch (9.5 mm) diameter core extension rod
- Open bore for easy cleanout
- Continuous operation to 250 °F (120 °C)
- Environmentally sealed to IEC IP-68
Specifications
| | |
| --- | --- |
| Available FS Ranges: | 0 to 3, 6, 9, 12, 15, or 16 inches (0 to 75, 150, 225, 300, 375, or 400 mm) |
| Excitation Frequency: | 3 kHz nominal |
| Excitation Voltage: | 3 V ACrms nominal |
| Full Scale Output: | 0.9 V ACrms output (nom.) from differentially connected (S1-S2) secondaries (ref: 3 Vrms excitation); sum of secondaries output is constant over range for ratiometric (S1-S2)/(S1+S2) operation |
| Linearity Error: | ≤±0.5% of FSO |
| Operating Temperature: | -40 to 120 °C (-40 to 250 °F) |
| Temperature Coefficient: | ≤±0.025% FSO/degree C |
| Humidity: | 95% RH non-condensing |
| Shock: | 1000 g, 11 msec. |
| Vibration: | 5-20 Hz, 0.5 inch p-p; 20-2000 Hz, 4.2 g p-p |
Ordering Info Table
| | | |
| --- | --- | --- |
| Series | Range inches | Termination |
| LA-27-R- | XX- | XX- |
|   | 03 - 3" | 00- cord grip with 1 m cable |
|   | 06 - 6" | 02- 6-pin PT02-10-6P |
|   | 09 - 9" | 06- 6-pin Turck minifast connector |
|   | 12 - 12" |   |
|   | 15 - 15" |   |
|   | 16 - 16" |   |
Configuration Table
LA-27-R-XX Configurations

 

LA-27-R-XX

-03

-06

-09

-12

-15

   -16

Dim 'L'

8.12"L

11.87"L

14.87"L

18.87"L

22.87"L

 22.87"L