Question
Why is the New LVIT Technology is so Important for Linear Position Measuring?
Answer
There has been a revolution in the position sensor market with the development of low cost, high precision, inductive LVIT Technology developed by H. G. Schaevitz LLC dba Alliance Sensors Group. 
LVIT Technology (Linear Variable Inductive Transducer) has significant advantages over LVDTs and Potentiometers having an excellent stroke-to-length ratio and using contactless, inductive technology; giving you best of all worlds at a cost-effective price. The LRS-18 series are designed for dimension or position measuring applications in factory automation and in various industrial and commercial applications such as automotive testing, mil/aero test stands, robotic arms, and packaging equipment.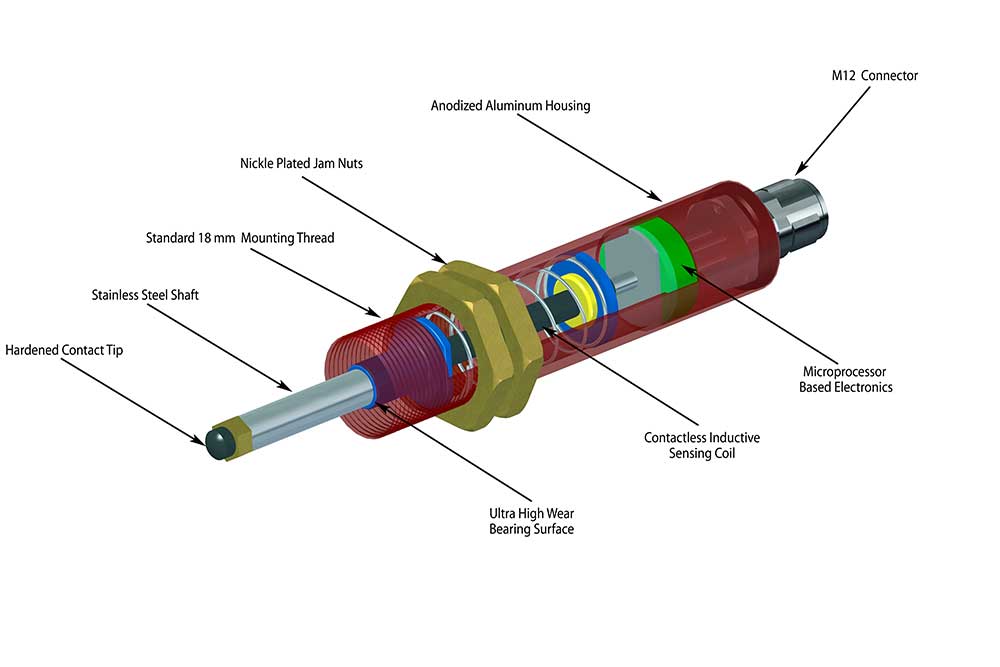 The new LRS-18 series of spring-loaded LVITs have the following features:
- EXCELLENT stroke-to-length ratio
- Contactless operation
- Ranges from 12.5 to 100 mm (0.5 to 4.0 inches)
- M18 x 1 threaded housing
- IP67 sealed
- Corrosion resistant, anodized aluminum or stainless steel body
- Connector or cable terminations
- A variety of analog I/Os
- SenSet™ field programmability
The LRS-18 was designed with a focus on automation machinery and is constructed with an industry standard M12 connector and a M18 threaded body complimented by a spring-loaded, stainless steel probe shaft in an ultra-high wear bearing system with a contactless inductive sensing coil connected to microprocessor based electronics, encased in a corrosion resistant housing.