For Use In
Interceptor Valves
Governor Valves
Throttle Valves
Bypass Valves
Stop Valves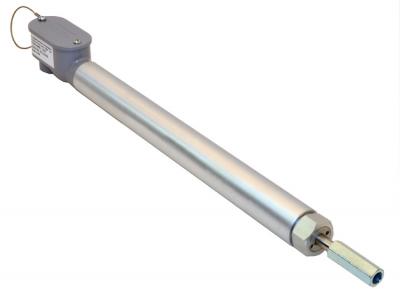 Linear Position Sensors Specifically Designed and Engineered for Applications in Power Generating Steam Turbine Control Systems
 Linear Position Sensors Specifically Designed and Engineered for Applications in Power Generating Steam Turbine Control Systems
The Alliance Sensors Group PGSD Series linear sensors are the first LVDT-based valve position sensors designed and engineered specifically for applications in electric power generating steam turbine control systems. Many features of the Alliance Sensors Group PGSD Series Position Sensors were requested by power gen controls engineers and are embodied in the PGSD Series Super Duty LVDT. The PGSD Series Position Sensors are available in full ranges from 3 to 15 inch (76 to 380 mm).  
Totally enclosed core cannot vibrate loose, break off.
3/8 inch diameter core extension rod; twice the diameter of typical LVDTs.
Alliance Sensors Group PGSD Series Linear Sensors are the choice in power gen valve position sensing applications on steam turbines and are designed for physically demanding use. The LVDTs mounted on a steam turbine get stepped on, have heavy things dropped on them, are subjected to steam, etc. The PGSD series are designed to operate in these kinds of punishing environments and applications, provide a level of reliability that controls engineers depend upon.
The PGSD Series linear sensors have a wire connection terminal block inside an IP-68 sealed housing, and a 3/8 inch diameter core rod in which the LVDT's core is encapsulated so it can never vibrate loose, or break off. An available in-line ball joint on the connecting rod reduces takes up installation misalignment and a double contact shaft seal keeps dirt and grit out of the sensor's bore. Electrical connections use Euro-style screw-clamp-type terminals for wire sizes from No. 24 to No. 14 AWG, eliminating soldering to connectors. The PGSD has a 3/4-NPS female hub that accepts liquid tight connectors, cord grips, or flexible conduit fittings. A 3/4- to 1/2-NPS female adapter is included with the sensor.
Designed and engineered to survive the long term demands of the extreme environment on the steam turbine deck, these PG sensors bring a level of confidence and high reliability to this application.
Specifications:
Alliance Sensors Group PG Series LVDT Linear Sensors Models:
PGHD
Heavy Duty
PGSD
Super Duty
PGxR
Radiation Resistant



Range Designators:
 



Sensitivity:
-0203
3-inch range sensor
0.200 V/V/inch
-0406
6-inch range sensor
0.100 V/V/inch
-0609
9-inch range sensor
0.067 V/V/inch
-0912
12-inch range sensor
0.050 V/V/inch
-1215
15-inch range sensor
0.040 V/V/inch
Electrical Specifications:
Excitation Frequency
3 kHz
Excitation Voltage
3 V ACrms nominal
Full Scale Output (S1-S2)
3.5 V ACrms output max from differentially connected secondaries; sum of secondaries output is constant over full range for (A-B)/(A+B) ratiometric operation
P to S Phase shift
10° max
Non-linearity
≤ ±0.5% of FSO nominal (.5% max)
Environmental Specifications:
Operating Temperature
-40 °C to +175 °C (-40 °F to +350 °F)
Temperature Coefficient
≤±0.025% FSO/°C
Humidity
95% RH non-condensing
Shock
1000 g, 11 msec
Features
- Rated for up to 350°F (175°C) Operating Temperature
- Built-in Over-Temperature Indicator for Warranty Coverage
- 3/8 Inch Diameter Core Extension Rod…Twice the Diameter of Typical LVDTs
- Totally Enclosed Core Cannot Vibrate Loose, Break Off
- Two Double Contact Shaft Seals Keep Grit and Dirt Out of the LVDT's Bore
- Inline Ball Joint on Core Rod Takes up Minor Installation Misalignment
- Electrical Connections via Euro-style Screw-Clamp Terminal Block that Takes no. 24 to no. 14 AWG Wires…No Soldering Required
- 3/4 NPS Female Conduit Port Accepts Liquid Tight Connectors, Cord Grips, or Flexible Conduit Fittings. 1/2 NPS Female Conduit Adapter Supplied with Unit
- Optional Mounting Flanges, Spherical Rod Eye Ends, Hold-down Clamps, Custom Extension Rods, and Other Installation Hardware Readily Available
- 2 Year warranty…Twice as Long as the Industry Standard
Specifications
Configuration Table
If you are looking for CAD drawings of our PGSD sensor, simply call us at 856-727-0250 or use the online contact us form by clicking here.